Interior Design - 5 Trends You Need To Know About This Winter
By Jim (17/10/2016)
Hi everyone!
Winter, as they say, is coming, and as it gets cold outside we naturally turn our attention to inside. Interior designers from the top high-street stores are releasing their new winter ranges - although they all have their own specific styles, certain things are definitely 'in' this winter, and look set to be interior design staples for the years to come, so we've provided this handy guide for you!
1. Pattern Seeking

Of course, designers like to cover all bases so there are several styles to please different tastes, but we've found that across the board there are two main pattern styles which have emerged as winter trends; first is a range of simple but elegant geometric shapes, the second is characterised by elaborate natural motifs.

This latter is often botanical with leaves, flowers and vines featuring heavily - however, they aren't always separated- sometimes the two are placed together, side by side, each enhancing the other.




Image © Debenhams, Next
It's like Art Deco meets Arts and Crafts, and it can be highly effective - for an example, check out the 'Norway' collection from Next.

Interestingly enough, some of the carpets we stock also reflect these trends - have a look at these examples here.

Also in pattern trends: Plaids and animal motifs - especially songbirds, hares, foxes, owls, deer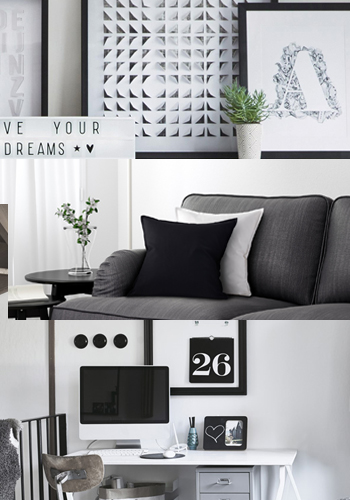 2. Dreaming Of A Black and White Christmas

Image © IKEA, Next

We have already written about colours to consider when redecorating your house, but there are always new combinations coming around!

There seems to be a general movement towards the monochrome this season - white, black and grey, as seen in Next's 'Geo' and 'Luxe' collections.

Accompanied by silver and chrome, this simple palette makes for many classy interiors.

However there is room for a splash of colour; purple and turquoise (two of my favourites!) feature heavily in many of the winter style guides, and Debenham's 'J' range (after Jasper Conran, son of the equally noteworthy designer Sir Terence Conran whose shop we mentioned on a previous blog) favours notes of lime green and lilac.

In each case, the carefully chosen colours will 'pop' in their monochrome setting, allowing you to pick out individual items (more on that later!).
The other major trend this season is towards the neutral and the natural - cream, beige and brown making for a homely feel, as in 'Natural History' by M&S and John Lewis' 'Croft' style.

Also in colour trends: Pastels, copper, gold


3. The Winter Collection - Curation and Collections


Image © M&S, Next
There is a lot of talk from interior designers at the moment about 'curating' the home.

In this age of mass-production, the idea of unique or artisan objects had become more appealing, as has the habit of making 'features' of fittings, rather than regarding them as simply practical.

Having interesting knick-knacks around the house is hardly a new notion of course, but this season it seems to have been elevated to a 'design trend' rather than simply a 'nice thing to do', with all the associated fanfare.

So, what does this mean? Well, linking in with our previous point, the rule of thumb seems to be neutral fixtures couples with bright features - using the room as a blank slate on which to highlight your favoured treasures.

Also, 'gallery walls' are becoming ever more popular, to the extent that Ikea actually has a tutorial on arranging one- well, I think we can all agree they know how to organise a room.

M&S also provide some advice on curating your home - of course, the specifics will be very much up to you, but popular choices for 'feature' objects at the moment seem to be light sources (especially lamps), cushions and rugs. Which brings us neatly to our next point...

Also good for features: Mirrors, vases, candle holders, plants and anything you like the look of!


Image © Next, IKEA
4. Scandi Rugs

You may remember last week we discussed the Rya, a traditional Scandinavian rug characterized by a thick soft pile which helped keep out the bitter cold of the Nordic winter - well, we may have central heating nowadays, but the rugs are more popular than ever!


Image © Designer Carpet Remnants, IKEA, John Lewis
This may have something to do with Ikea, who have been championing them ever since their expansion from their native Sweden in the 1970s, but it is clear from looking at the other top UK retailer that the time of the designer rug has arrived. It seems also that the flat-weave rug is making a come-back as well, although not so popular for winter as it isn't as warm!

Of course it's not for everyone, but if you do find yourself wanting something to go on your unyielding laminate or wood floor which is both pleasing to the eye and the feet, there's plenty to choose from! Needless to say, we also do a line in both designer and bespoke rugs, so check them out if you're interested.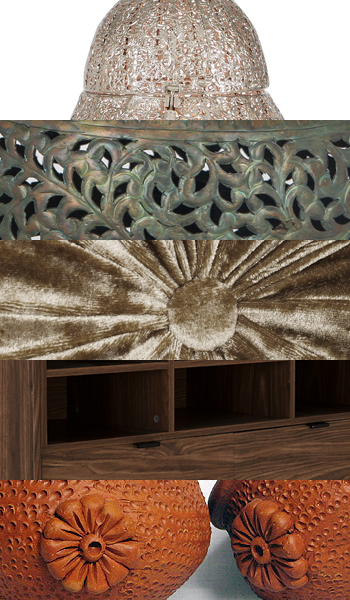 5. Materials

Although classics like pine, stainless steel and glass are still top of the list there are a few materials which, having spent some time in the 'out' pile, are making their way back into the hearts of interior designers.

China for example - the idea of decorative vases and plates (part of 'curating' you home) is definitely on the increase; by the same token terracotta is also making a comeback, the deep orange-red of a plant pot (with accompanying plant) on the monochrome background can be very effective.

Also darker woods like walnut are being embraced, as is 'distressed' metal as it is associated with Moroccan style, particular Moroccan lattice lamps which are becoming popular.

Perhaps the biggest comeback though is crushed velvet - having been eschewed for a while as incompatible with the contemporary Scandi-inspired interiors, crushed velvet and velvet-like finishes have returned.

Take for example John Lewis' and Next's Hotel-inspired ranges - you'll notice that velvet finish carpet, like these ones, are also a prominent feature, so if you feel that it's time for some more velvet in your life, let us know!

Image © Debenhams, Next, John Lewis


So, that's what the designers are saying - now you can feel free to take, leave, borrow, steal, or completely ignore their suggestions and ours; who knows, you may well start a new trend for Spring 2017! In the meantime, enjoy your decorating and if you need new carpet or a fancy new rug...well, you know who to ask.