Invest In Your Home - 4 Ways To Create A Calming Bedroom
By Jim (17/10/2017)
Hi everyone! It's been a while since we did an invest in your home blog, but here we are!
In these hectic days, we all seem to be rushing around - work is demanding and it can take its toll. We all need a safe and relaxing space we can come back to at the end of the day.
Relaxation means different things to different people, of course - some of us enjoy a quiet read, others an evening of movies or video game - but there are a few things that should appeal to most tastes, and we've assembled a few here…
Tranquil Tones
Not everybody goes crazy for pastels - in fact, one of the things about pastels is that they don't provoke strong emotions. We've advocated for wilder colours here on the blog before, and if you want an energising room that is fine - but for a calming bedroom space, pastels, cream and beige are the perfect thing.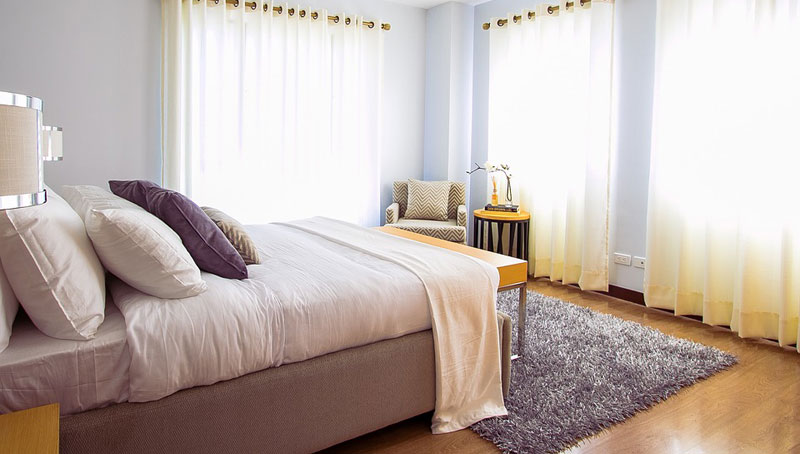 Image found on MaxPixel Image License CC0
In fact there are various studies which show that you can be overstimulated by colours - great for offices, gyms and other hard-work environments, not so good for a relaxing bedroom! If you intend to create a home office in your bedroom, that's another story!
There are no end of pre-made colour combinations available from different sources all over the internet - but you will have to find your own particular palette. And it is worth thinking quite carefully - mint green may seem fresh and fun at first (we're not saying it isn't) but after two or three months might start to feel like you're in a hospital bed!
Some people have their own advocates - for example, Dulux have just revealed their colour for 2018 (next year at time of writing) - 'Heart Wood' - a warm pinky-grey (or greyish-pink, if you prefer) which they feel can be 'calm or cosy, energetic or relaxed' - a colour as a refuge for the bustling world outside.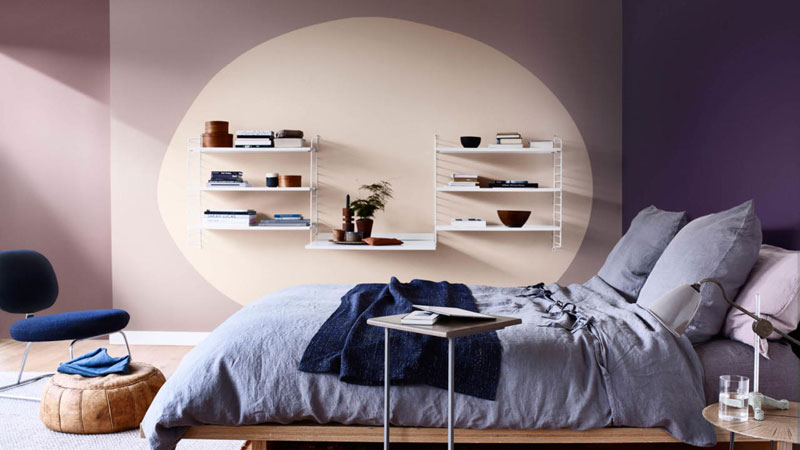 Image © Dulux Heart Wood
Warm Wrappings and Cosy Carpets
Fabrics have a part to play in any human space (they have been with us for hundreds of years and often shaped our culture, as one of our previous blogs investigates) - both in terms of aesthetics and practicality.
A nice blanket is probably the best all round thing to invest in for the bedroom - sometimes it is too warm to go under the duvet, and sometimes it's cold enough to warrant both duvet and blanket too!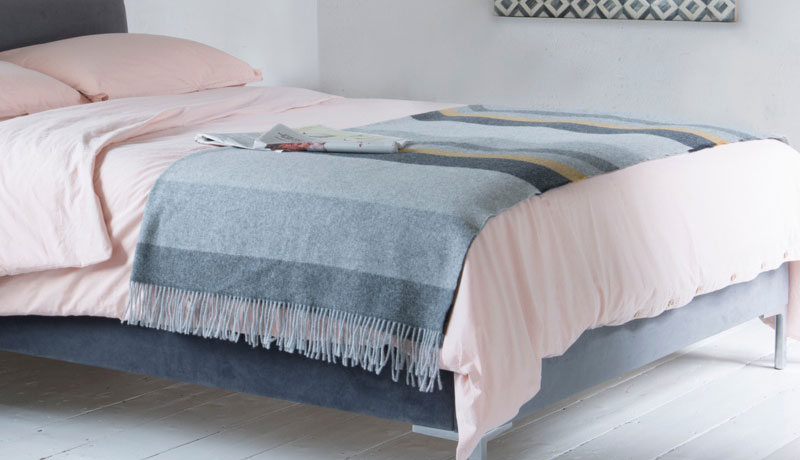 Image found on Loaf
A good blanket can be taken to a reading chair, used as an extra pillow, put on the floor for cold feet, used as an emergency extra curtain if the sun or street lights are too bright - plus a nice design or colour will contribute to the overall look of your room.
Carpet is of course our area of expertise, and a cosy and relaxing room should have a good carpet - a deep pile and soft finish are ideal for making your feet feel great at the end of a long day.
Remember though that pile height is not the be-all and end-all of a luxurious feel - pile density is also important! You can find out more on our FAQ and this blog about choosing your carpet.
For those looking for softness alone, viscose carpets, like those made by Intercontinental Trading, are ideal - and manufacturers like Westex are now producing their 100% nylon 'Silken Velvet' carpets which give them a run for their money.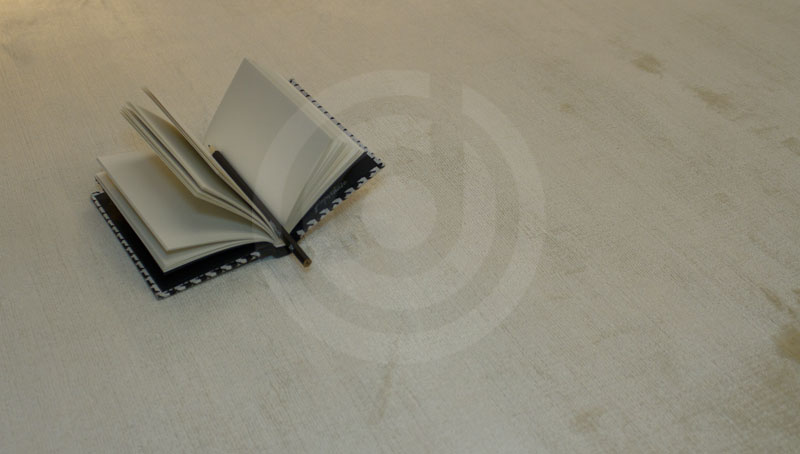 Image © Designer Carpet Intercontinental Trading Viscose Elegance Beige
Still, for the combination of strength, warmth and luxury, pure wool (or a 80/20 wool and nylon mix) is ideal. We would also recommend those advertised as velvets, which have a super-smooth finish.
Finally, it's a good idea to consider your curtains - blackout curtains can be a great investment if you're working odd shifts, or want to lie in. There are also curtains which help trap heat or release it, depending on your preferred temperature.
The colour and designs of any of these elements can also help to sooth you - perhaps some pleasing geometric patterns or botanical curves?
Purifying Plants
Image found on MaxPixel Image License CC0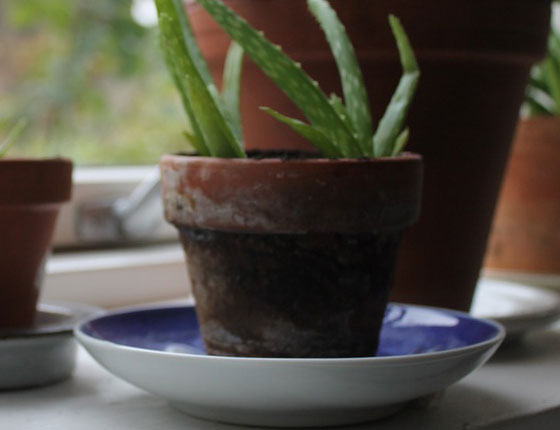 Why spend money on an expensive air purifier when there are plants which do it naturally?
Several plants which are famed for helping to circulate and purify the air in a room - for example orchids, philodendrons, ferns, peace lilies and aloe vera all help filter VOCs and other nasties from indoor air.
Succulent plants - which naturally store moisture due to evolving in dry climates, do not require much attention, so they should be fine for even the least green fingered of us, and there are plenty of guides online if you're unsure)
NB: If you are thinking of getting some succulents, hy not check out this blog at Morning Chores on succent care? It's well worth a read!
If you aren't keen on cacti and aloe, what not try growing some herbs? Many are perennial and easy to grow inside, as well as smelling and tasting delicious.
In addition to keeping the air fresh, it has been shown that keeping plants - and seeing them grow - has provable psychological benefits.
With all that going for them, indoor plants are well worth investing in - and from an interior design point of view there are many ways to present them to delight the eye. They will give your room a little life - both figuratively and literally.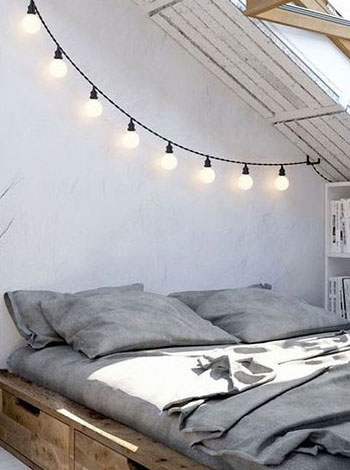 Let In The Light
You can use both natural and artificial light to calm a space - hopefully your room will have some natural light already, and it is a good idea to make use of it as best you can.
Clean those panes, draw those curtains and take stock - imagine creating your room with the natural light source as a focal point.
Of course, as Winter draws in, it may be that you are leaving before the light emerges and returning when it is already gone.
Lack of natural light is a proven factor in low mood so it's best to try to compliment - Summer or Winter - with some strategically placed artificial lights!
An overhead light for reading can be a useful addition to any bibliophile's bedroom. Also, the use of fairy lights for mood lighting is increasingly becoming popular for an all-year round sparkle, rather than just a festive treat.
Smart lighting systems (such as the Phillips Hue system) are also an excellent investment - they can be controlled from an app or pre-programmed to dim or lighten at certain times of day to save your eyes and your energy!
We hope that gave you a little inspiration to make your cosy nest - please do check out our Pinterest boards for more and remember to follow our Facebook Page and Twitter for more interior design ideas!