How To Choose Your New Carpet
By Jim (03/10/2016)
It can be daunting to choose a carpet; there are so many things to consider, and such a wide range of products to choose from...with this in mind, we've created a guide to help you make this big decision!

NB: This blog covers everything in details but if you're in a hurry we have also made this handy Choosing Your Carpet Cheat Sheet which you can download!
1. Your Needs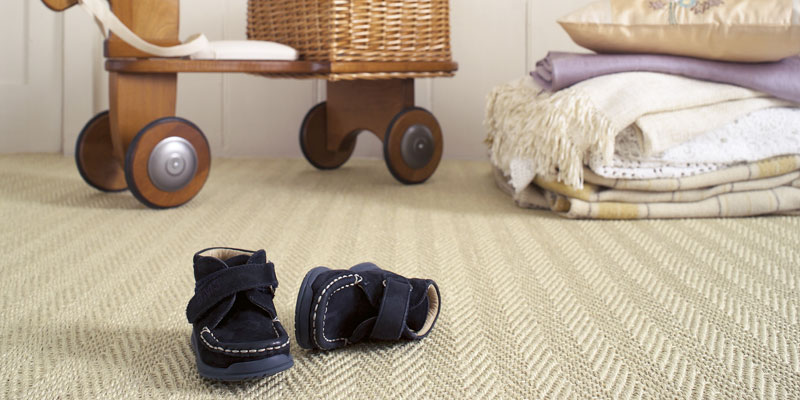 Image: Sisal Herringbone © Alternative Flooring

Before you start looking at carpets you have to decide what is most important to you.
This depends on a number of factors, like where the carpet is going to be fitted; different rooms have different needs depending on their use - some areas, like the stairs, are walked on a lot (these are often referred to a 'high traffic areas') and would require a hard-wearing carpet.
Others, such as the bedroom, will be fine will something more delicate. Another factor to consider is how many people there are in the household - obviously more people means more footsteps!
And anyone with small children will want a carpet that is easy to clean. It's worth looking at all these things, so you know the right questions to ask when it comes to buying your new carpet.


2. Materials

Pure Wool
Wool is a very soft and luxurious material. It hides dirt better than man-made carpets, as the fibres are opaque, and it doesn't flatten as easily as it is naturally springy. However, it is harder to wash and will react badly to harsh chemicals like bleach - it has to be cleaned using special 'WoolSafe' products, so probably not a good material to use if you are expecting lots of spills and splashes! Also budget wise it tends to be quite expensive.

Man-Made Fibres (e.g. Viscose, Nylon, Polypropylene)
Man-Made fibres are far easier to clean than Wool- polypropelene carpets especially as they can be cleaned with bleach - and they are more affordable. However, they tend to flatten more quickly, and in particular viscose (or 'artificial silk') carpet reacts badly to spills and direct sunlight. Some man-made fibres are given brand names, but they will generally be a variation on either nylon or polypropylene.

Wool/Nylon Blend
If you're looking for a combination of luxury and longevity, a blend (usually 20% Nylon and 80% Wool) is an excellent compromise. Although the 'feel' is not quite as soft as pure wool, the difference is very slight and the benefits are huge. The majority of Westex carpets use the 80/20 blend - they also pre-treat their carpets to protect them from moisture, dust-mites and moths, so if you want something hard-wearing they are an excellent choice!




NB: The following are natural materials and are occasionally categorized as 'floor-coverings' rather than carpet per se - however they do feature on ours and other websites so it's worth knowing about them!

Sisal
Sisal is a natural fibre made from the leaves of the Agave plant - it is very hardwearing, and can be woven into beautiful and elegant designs, very different from regular carpet, which are sure to impress - however, it is also very absorbent, so like wool it's probably best not used anywhere where there are likely to be spills!


Sisool
Combining the best of both worlds, Sisool is a woven blend of sisal and wool, - the softness of wool and the strength of sisal! Very few carpet manufacturers work with it at the moment (it is principally made in the UK by Crucial Trading and Alternative Flooring) but it is becoming more and more popular for its unique characteristics.




Coir
The most hard-wearing of all the natural floor-coverings, coir is great for high traffic areas like stairs - it isn't too soft though, so not ideal for bedrooms and living rooms.
It is slightly more water resistant than sisal but still best kept away from damp environments.




Jute
Jute is the softest of the natural fibres, very appealing to both the eye and the skin.
It's not as tough as coir or sisal, so generally recommended for low-traffic areas, especially bedrooms.




Seagrass
Seagrass is a very strong material with a very smooth, shiny, surface, which is very pleasant for areas like lounges and hallways. Manufacturers don't recommend it for uneven surfaces or stairs though, as there is a risk of trips and falls.





Also, we have written separate blogs covering the relative merits of wool and man-made carpet and natural materials, so it's worth reading them if you want to know about these things in more depth!


3. Carpet Type and Construction

The way a carpet is made is also important when considering your choice. Here are the main types and their characteristics...

Twist
Twist carpets are made from tightly twisted fibres, usually attached to a backing with adhesive - the top of the fibres are cut to a specific length (or 'pile height') and thus these types of carpets are said to have a 'cut pile'.



Image: Twist Carpet ©Designer Carpet Remnants

Twist carpets are suitable for most rooms in the home from the landing to the living room, and feel soft to the touch. However depending on the material (see above) they are more susceptible to flattening than loop carpets.

Velvet
A special type of twist, Velvet carpets are finished in a very particular way to give a smooth texture, reminiscent of velvet or suede. This creates a luxurious soft feel, ideal for living rooms and bedrooms where the full benefit can be experienced.

Loop
In a 'loop' carpet the yarn is formed into coil- the loops can all be the same height, known as a 'flat level' loop pile or in differing heights, for a textured finish. The 'flat level' is more resilient, better suited for high-traffic areas like landings and stairs, whereas textured carpets look more interesting, perfect for any area they will be 'on display'.



Image: Loop Carpet ©Designer Carpet Remnants

Overall loop carpets are more hard-wearing than twist carpets and resist flattening for longer. If you have pets, it is worth noting that their claws can get stuck in loop carpet- not ideal for either the pet or the carpet!

Woven
When a woven carpet is manufactured the pile and backing yarn are sewn together simultaneously without the need for adhesive. This makes them extremely hard-wearing and often used for commercial environments like hotel lobbies and restaurants.
There are two types of woven carpets: axminsters (named after the brand of the same name), which are patterned, and wiltons which are likely to be plain in style. They are both great for high-traffic areas, but tend to come with a high price tag - thank goodness for our discounts! Brintons produce excellent woven carpets and we also stock some from other manufacturers too.


4. Additional Specifications

Pile Height
Pile height indicates the length of the carpet yarn, not including the backing. The most notable difference it makes is in the feel of the product - a thick pile can be very luxurious - but there are still practical concerns. If the pile is very thick it can flatten or even matt together with continuous use and is therefore unsuitable for high-traffic areas. The maximum recommended pile height for stairs is around 1/2" (1.2 centimetres) and for most rooms around 3/4" (1.9 centimetres).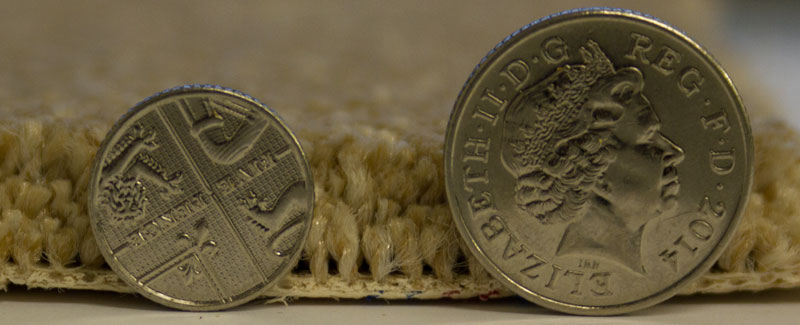 Image: Kingsmead Mega Saxony Biscuit ©Designer Carpet Remnants

Pile Density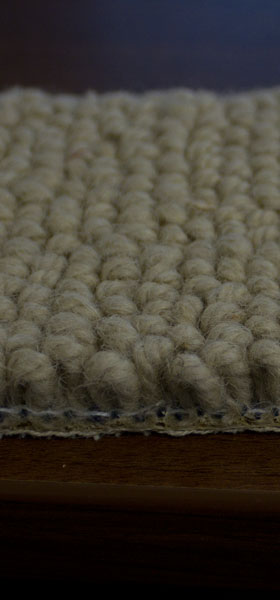 Pile density describes how closely carpet fibres are packed together. Greater density means the carpet will last longer and be more hardwearing.
The range of density is represented as a number from 1000-6000 - this indicates ounces per cubic yard, although it's not necessary to remember that!
Ideally for a family home you wouldn't want anything lower than 2000. Some manufacturers use a similar measurement called a 'gauge', described as a fraction of an inch - for example a 1/8 gauge means there are 8 ends of yarn per inch. In this case, the larger the denominator, the greater the pile density.

Tuft Twist Rating
The fibres of carpet are twisted together to form 'tufts' - the more twists there are, the stronger the tufts and the longer the carpet will look its best. Tuft twist rating is measured in twists per linear inch, usually between 3 and 7.

Suitability
Carpet manufacturers often helpfully indicate the 'suitability' of a carpet, an overall marker of how durable it is. The terms are quite self explanatory, divided into two main groups: 'domestic' or 'residential' (i.e. normal household) and 'contract' (hotels, restaurants, bars etc.). As a rule of thumb, contract carpets are designed to be more hard-wearing for obvious reasons, but there are further sub-categories for both, ranging from 'light' to 'extra heavy duty' - so if a product is labelled 'extra heavy duty contract', you can be sure it will last for a long time!

Tog Rating
A 'tog' is a measurement of thermal resistance i.e. insulation. The higher the rating, the more heat will be 'trapped' by the material - it is more commonly used for duvets and sheets, but it is occasionally useful if you are planning to put carpet (and underlay) over underfloor heating. Working out the combined tog rating of carpet and underlay can get quite technical as it's not a matter of simple addition, so it is always worth consulting a heating expert. Generally speaking any carpet with a tog value greater than 2.5 is unsuitable for use with underfloor heating. (NB: Brintons have helpfully listed the tog values of all their carpet ranges, plus more information, on their website!)

Currently we don't list certain specifications on our product pages, but if you do need these or any other additional information please do let us know!


5. Getting A Sample





The best thing to do when it comes to choosing a new carpet is to order a sample - a picture can only give you so much information, and it certainly can't tell you how a carpet feels!
Also depending on the lighting in your house the carpet may look different to how it appears on the computer.
Thankfully many websites, including ours, offer a free sample service to help you find what you need; on our site you can order up to four samples per day, so you have plenty of scope for different options!


We hope this information will prove useful to all you would-be carpet buyers, but if you're still stumped we are always happy to help you choose.
There are several ways you can get in contact with us. You can visit our warehouse, contact us via e-mail or phone, or book a measure and consultation where our professional carpet-fitters will be able give you suggestions based on their extensive experience.
There is also some additional information here from experts if you need to know more...

The Carpet Glossary

The Flooring Guild's Guide To Carpets

The Carpet Professor

Until next time, happy shopping!


Enter your required size for our most accurate pricing and availability.