faq / our services / rugs 01
How can I order a bespoke rug?
It's easy!
There are two methods you can use on our website - either step-by-step using the rug builder or by selecting any of the individual products in our remnants or rolls sections.
Unfortunately we do not currently offer the bespoke rug service for products listed under carpets, so the following will not apply to them. For more information about how these products differ, see the Our Products section of the FAQ.
Using the Rug Builder
NB: When using the rug builder, try to use the 'next step' and 'previous step' buttons on the page rather than the regular back/forward buttons on your browser - also, avoid clicking the browser refresh button as this will return you to the first step
1. Head to the rug builder page.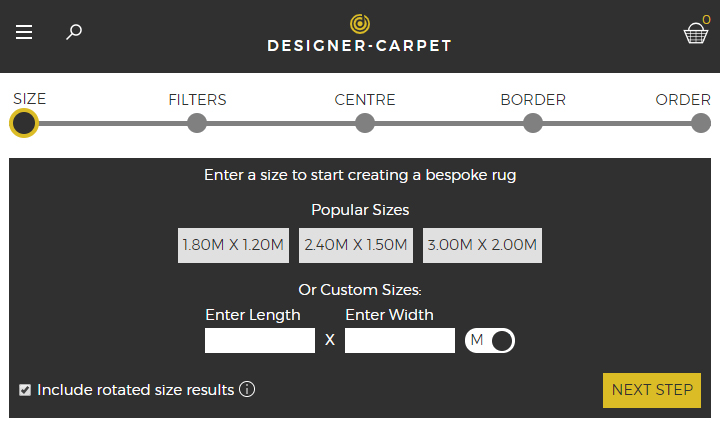 2. Select your size - there are three standard sizes we suggest, but you can request a custom size in the box below.
Including 'rotated size results' will mean that if you request a rug 3m long and 2m wide, you will also get results from remnants which are 2m long and 3m wide.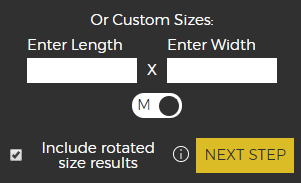 For most carpets this will not alter the overall look. However, if you wish to make your rug with a striped carpet, then it may be worth considering which way you want the stripes to run and, if necessary, unticking the 'include rotated size results' button. For the majority of striped carpets, the pattern with run along the length. More info about this here.
3. You will now be guided through a series of filters including brand, type and colour.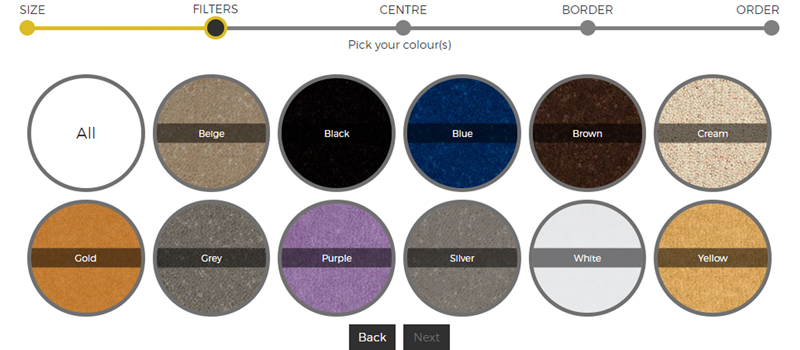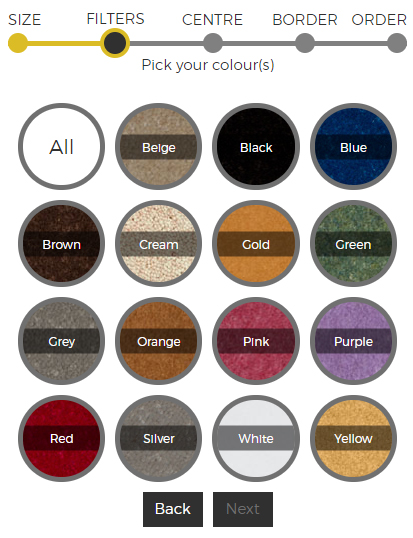 At each step, the rug builder will find remnants we have in stock which fit your specifications. This ensures that we will definitely be able to create the rug you want, without any disappointments or extra waiting!
NB: At any point you can select 'all' if you have not decided on your exact needs
4. After you have gone through the filters, you will be given a list of available remnants matching your search criteria, which can form the centre of your rug.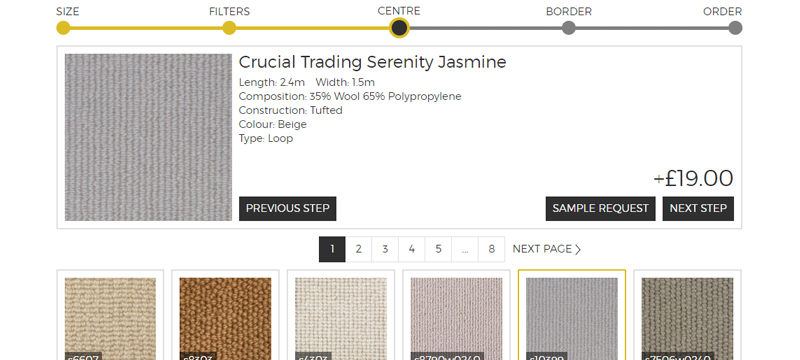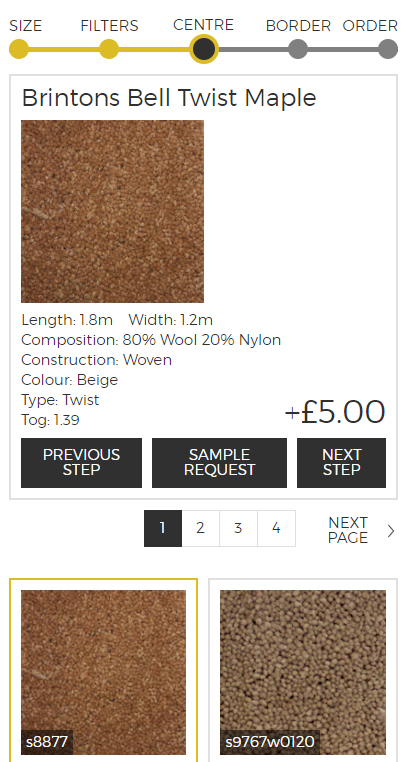 You can select a product by clicking on the image. This will allow you to check the product details (including price) and, if you are happy with it, continue to the next step. You can also request a sample of the carpet at this stage if you wish.
5. You will now be given the options for borders (you can find out more about the different types of borders here) - this step also gives you the option to preview how the border will look and test different backgrounds to see how it would look on your floor.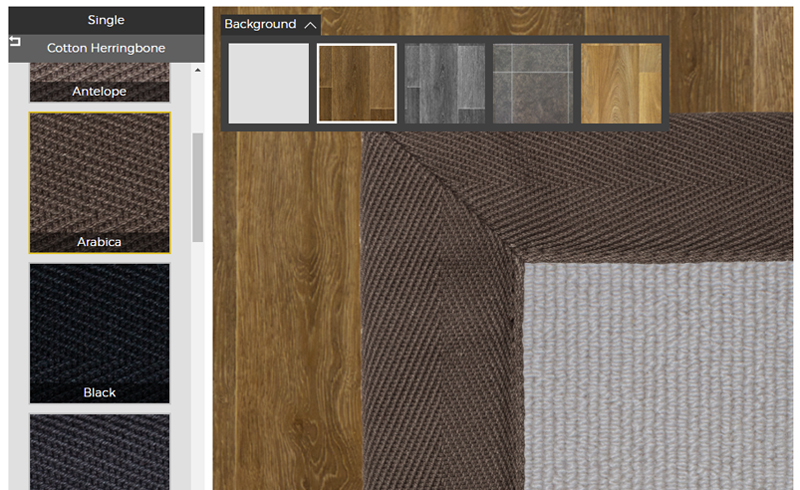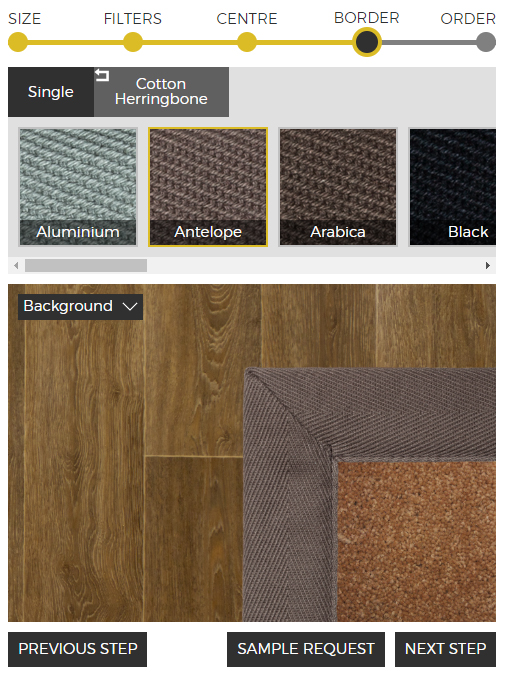 As in the previous step, you can
request a sample
of your chosen borders.
6. The final step will show both a visual and written summary of your rug - if you are happy with it, just click 'add to basket' and you will be taken to the checkout.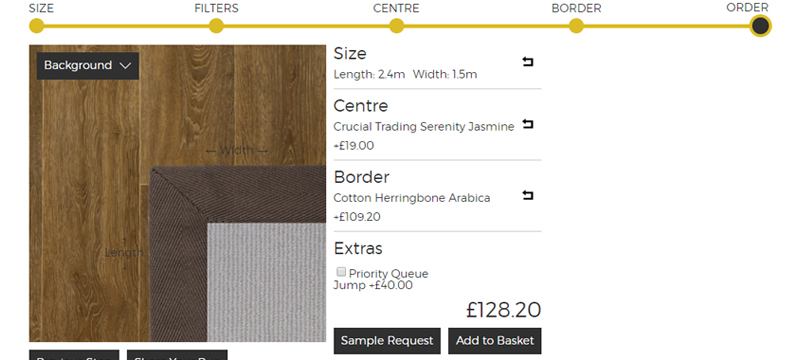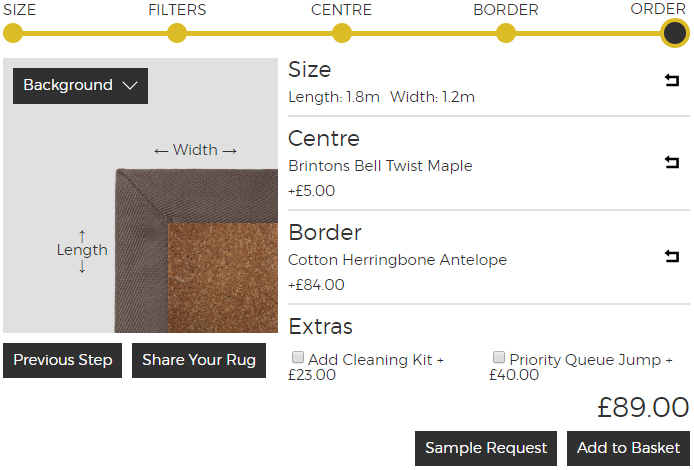 Once again you can order samples of both the carpet and border by clicking the 'free sample' button, and if you want to try other options click 'previous step'.
Building A Rug From An Individual Product
1. Choose the product you want from the remnants or rolls section
2. Click on the 'Create A Bespoke Rug' button
3. Pick your border and enter the size you want - no need to contact us for a quote, the price will be automatically calculated for you.
4. When you're happy, simply select 'Order as a rug' which adds the rug to your basket and you can check-out when you're ready!