Interior Design Trends For Spring 2018
By Jim (13/04/2018)
Hello all,
It's been a while since we addressed the ever-changing world of Interior Design back in January. So, what's new? What has withstood the biting cold of Winter and emerged as a true 2018 trend, and what has been consigned to the dustbin of design history (at least for another six months)? We'll look at some specific areas and see what the most up-to-date and with-it sources have to say...
Colours
Ice Cream Colours
We spotted this on a couple of websites and were dubious at first, but a couple of example images convinced us.
Of course these days, with hundreds of flavours available, any colour could be considered 'ice-cream', but the general idea seems to be tones between super-bright and pastel, favouring pinks, blues and greens. The classic chocolate brown is absent though - bad news for cocoa fans!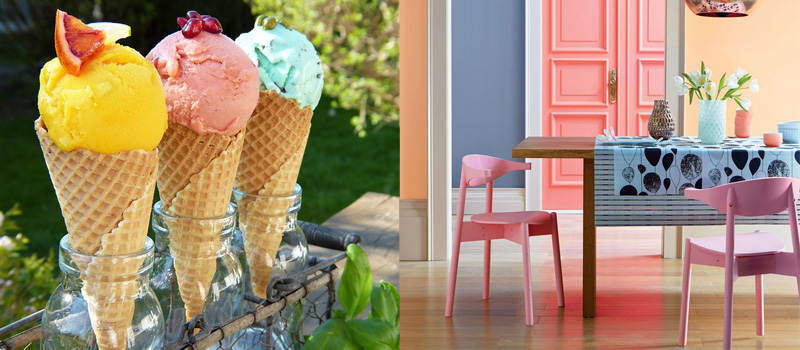 Ice Cream Colours - Image Found On MaxPixel and Valspar
Gold
We mentioned the ascendancy of brass in our January blog, replacing the ginger-orange tones of its close comrade copper. Well it seems than even brass is not swanky enough for 2018 - interior designers are now suggesting 'gold everything', including mirrors, fittings, plant-pots, light shades...even toilet roll holders, if you like.
Grey
Grey is never far away - this cool and subtle shade cannot be quashed by all the other wild trends. One of our favourite brands, Brintons, have their Marketing Manager, Natalie Littlehales, going on the record to say that "It is not only a wonderful companion to other neutral shades, it also has the power to balance out bold accent colours." - and we agree!
Patterns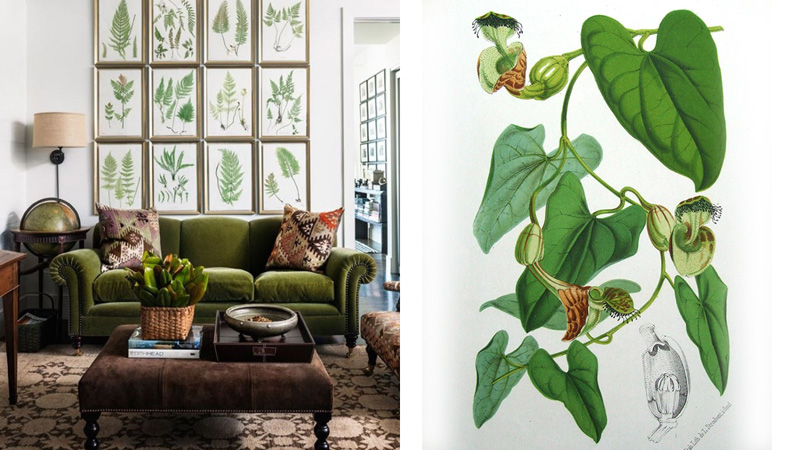 Botanical Prints - Images Found On Pinterest and WikiPedia
Botanicals
Apart from the herringbone we mentioned in the previous blog, the main new trend which has emerged since the beginning of the year is Botanical patterns - wallpaper, textiles, art-prints and objet d'art are all sporting flowers, leaves and bark, bringing some life and freshness indoors. Which brings us to...
Styles
Tropical
Given the miserable Winter we have had, it is hardly surprising that people want to bring some sunshine into their homes, and so a Tropical approach to interiors has emerged as a new trend in 2018. Fitting in with those botanical prints, palm leaves, pineapples and parrots will be a common theme, along with lots of bright colours, especially lush greens.
This fits in with the indoor greenery we covered in January, but with a focus on 'pattern plants' like the many varieties of calathea and maranta (also known as 'prayer plants' because their leaves fold together at night, like hands in prayer).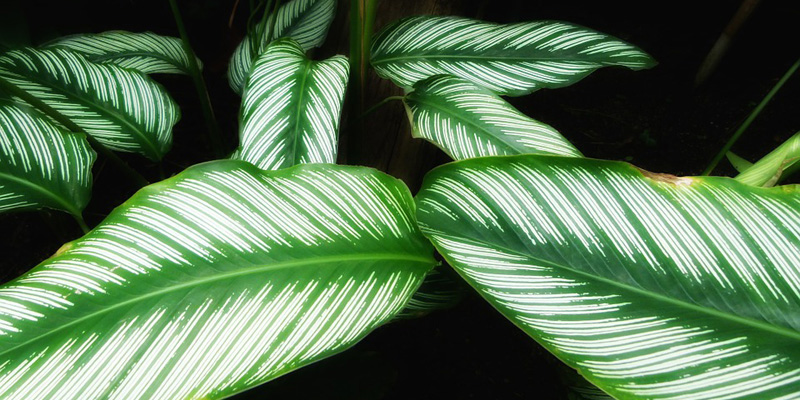 Calathea Plant - Images Found On PixaBay
A similar and continuing idea in interior design is the 'global nomad' - somewhat more nebulous but again focussing heavily on the curation of objects, this is a way to decorate that gives the impression that you have travelled the world...even if you might not have!
Maximalism
A crashing cacophony of styles is set to replace the sedate and refined tones of the last few years with 'maximalism', an inspiring rejection of balanced colour palettes in favour of embracing exciting contrast.
This can also be applied to things, gathering collections of objects which seem incongruous at first but somehow work together.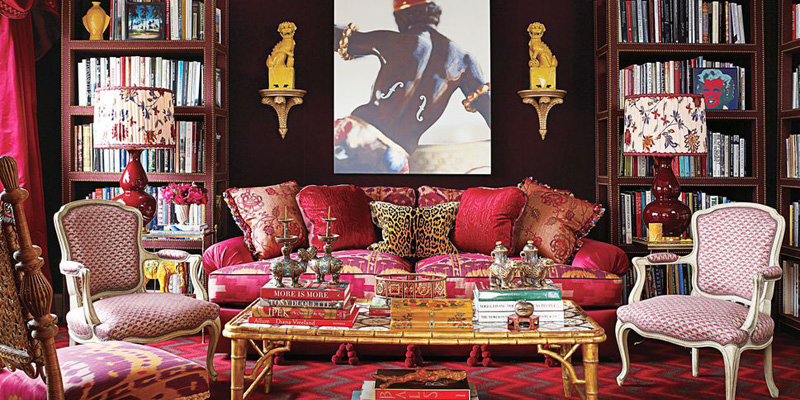 Maximalist Interior - Images Found On HouseBeautiful
Materials
Velvet
This classic fabric is making a big come back in 2018, according to cool-hunters - this springs from the same notion of rooms being 'cocoon like', something to wrap yourself in to escape the world - again something understandable after the harsh winter. Of course we are no strangers to velvet ourselves, although in our case it is carpet rather than curtains!
Wicker
Wicker is a bit of a throwback - we covered how one of our favourite brands Crucial Trading started off selling wicker goods which fell under the umbrella of 'colonial style' in the 70s, reflecting the days of Empire - and now it is making another return.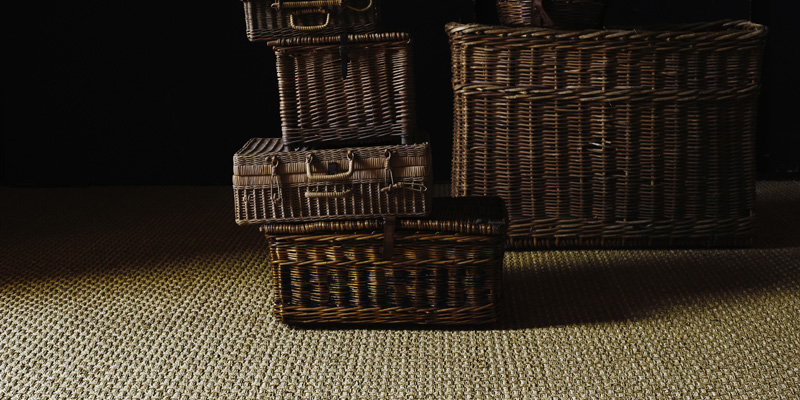 Wicker Baskets and Seagrass Carpet - Image © Alternative Flooring
People are finding this simple rustic material an escape from the increasingly high-tech and complicated world - plus it is very eco friendly! It pairs very well with seagrass and sisal carpet, so check them out if you're thinking of wicker-ing up your home.
Fringing
Time to take a trip back to your grandparents' house with some classic fringing! Not just on lamps but sofas, chairs, curtains and cushions - interior designers have gone fringe crazy in 2018. And you can set it off with a traditional woven carpet - they have time-tested strength and class, and will complete that early 20th-century modern feel.
And that's all for the first three months of 2018 - we hope that gave you some inspiration, but of course you don't have to follow the trends - if you want to keep your minimal interior, subtle colours and copper fixings, go ahead - chances are they'll be back in fashion next year!
Until next time, check out our other blog entries and if you have any questions, read our FAQ or get in touch.