Introducing The Rug Builder
By Jim (25/07/2018)
Hi everyone,
This is a rare self-referential blog to introduce our newest website service - our interactive Rug Builder!
Of course, it has been possible to make bespoke rugs on our website for a while, via the product pages on remnants and rolls, but the rug builder makes the whole process more streamlined, building the search and filter functions into the process.
Here is a quick overview of using this fancy new feature…
Navigating The Rug Builder
When using the rug builder, try to use the 'next' and 'back' buttons on the page rather than the regular back/forward buttons on your browser - also, avoid clicking the browser refresh button as this will return you to the first step.

At time of writing, the rug builder only uses products from our remnants and rolls sections - we hope to expand this to include our carpet section soon.
The benefit of this is that, because all these products are stored in our warehouse, we will definitely be able to create the rug you want, without any disappointments or extra waiting.
Size and 'Rotated Results'
NB: As with all the measurements on our website, those on the rug builder show length first and width second - this can be important when it comes to striped or patterned carpets (see below).
Once you have measured up your rooms (you can find out how to do that here), it's time to get started!
There are three standard sizes which are based on manufacturers' favourites - 1.80m by 1.20m, 2.40m x 1.50m, 3.00m x 2.00. This 3:2 (or thereabouts) length to width ratio is a good guideline, but of course you can request any size you want.
There are no maximum or minimum sizes for rugs, although larger ones (particularly anything over 5 meters) will probably take a little longer, so that is always worth bearing in mind (more about our delivery timescales here).

'Include rotated size results' is automatically selected at this first stage; this means that the search will ignore the distinction between length and width. For example, if you request a rug 3 meters long and 2 meters wide, you will also get results from remnants which are 2 meters long and 3 meters wide.
For most carpets this won't affect the overall appearance, but if you are specifically looking at carpets with a stripe, pattern or a specific construction (a herringbone for example) then it may be worth considering which way you want the design to run.
As mentioned above, all our product dimensions are displayed length first, width second, with the image showing length vertically and width horizontally.
For the majority of carpets, stripes will run along the length, but there are a few exceptions. Examples below...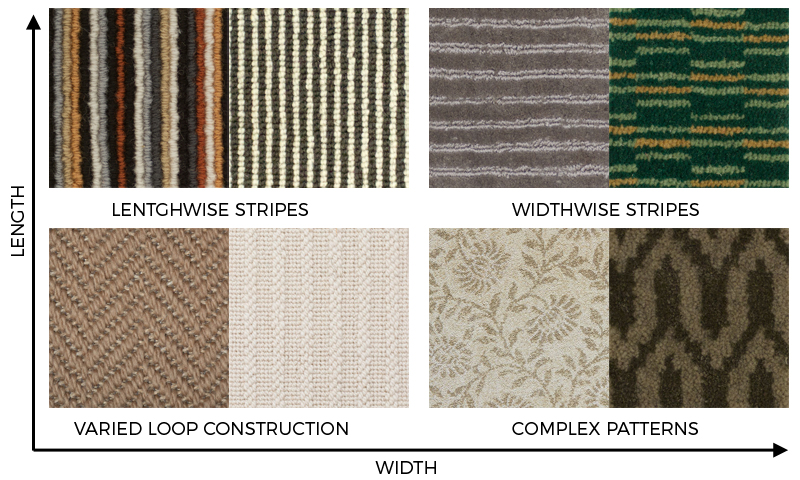 As you can see, the length/width distinction can be important depending on how you want the finished rug to look!


Filters and Choices
You will now be guided through a series of filters including brand, type and colour.
These will appear in different orders depending on your choices, so don't be thrown off if you see different combinations each time.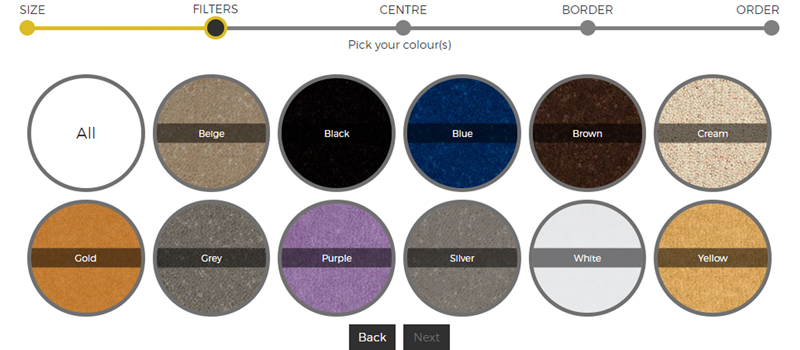 At every stage, the rug builder will narrow down the selection of remnants, based on your specifications, but you won't see the results until you have gone through all the filters.
At any stage you can select 'all' if you have not decided on your exact needs, but be aware that will mean a LOT of choice when it gets to the next stage!
Journey To The Centre Of The Rug
After you have gone through the filters, you will be given a list of all the available remnants matching your search criteria, which can form the centre of your rug - you can select a product by clicking on the images.
This will allow you to check the product details, including the price of the piece. If you are happy with your selection, you can continue to the next step.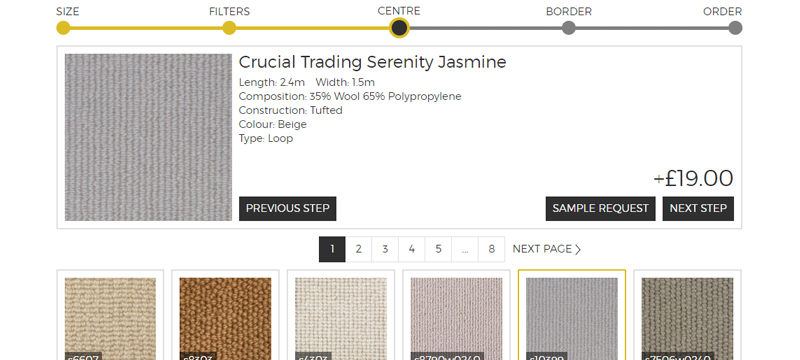 You can also request a sample of the carpet at this stage if you wish, which can be very useful if you are still window shopping.
Crossing The Border
You will now be given the options for your border - you can find out more about the different types of borders and their costs here on our FAQ.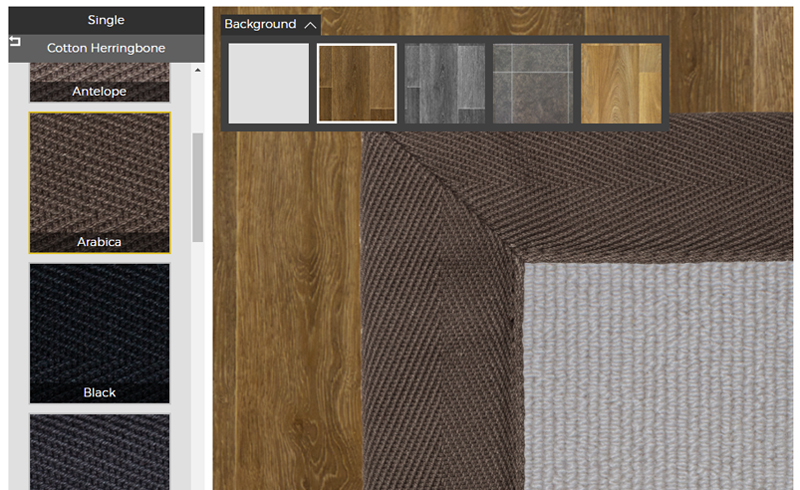 This step gives you the option to preview both how the border will look and test different backgrounds to see how the finished rug will look on your floor.
As with the previous step, you can request a sample of your chosen border/s to compare against your carpet.
Final Summary
The final step will show both a visual and written summary of your rug - if you are happy with it, just click 'add to basket' and you will be taken to the checkout.
Once again you can order samples of both the carpet and border by clicking the 'free sample' button, and if you want to try other options click 'previous step'.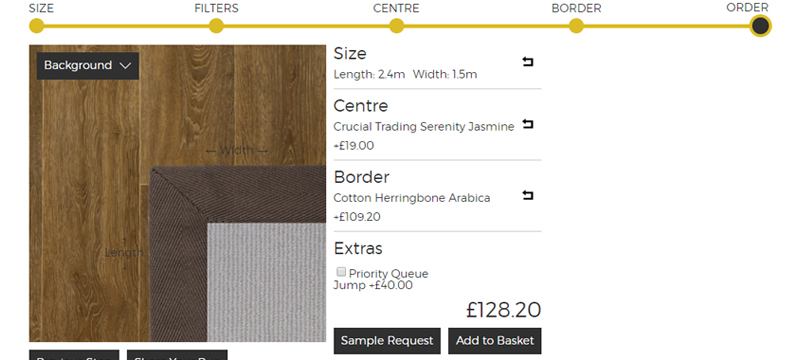 You can also click the small arrows on each part of the rug (size, centre and border) - this will take you back to the corresponding part of the process.
We are also trialing a feature we're called 'Queue Jump' - this guarantees a super-fast priority service for a nominal fee of £40. Our regular turnaround time for a rug is 7-10 working days, so this can be very useful if you need it urgently.
Well, that's our latest addition to the site - we hope you have fun experimenting and making your perfect rug. It still has some limitations - for example, if you want more than one rug out of a single piece, the best method is to call or e-mail us - but we will be building more features into it as we go.
Until next time, thanks for reading!