Behind The Brand - Brintons
By Jim (23/11/2018)
Hi everyone,
It is amazing what you can find beneath your feet - imagine discovering that your carpet contains over 200 years of history? Not literally (we hope) but figuratively - if you own, or are thinking about buying, a Brintons carpet, you might find just that!
Not only are Brintons carpets high-quality and long-lasting, but so is the company - let us tell you a little about them and why we rate their products...
The Company
Brintons are one of the oldest carpet companies in the UK - 235 years old as of this year. They were founded in 1783, the the same year the American Revolutionary War ended, giving you an idea of just how much history the company has seen.
And in that time they have achieved quite a lot. It began in Kidderminster, Worcestershire, which had been famed for textile production since the 13th century (obtaining rights to a Cloth-Makers guild in the 1670s) - local land for raising wool sheep and the fast-flowing River Stour made it an ideal place for production and trade.
The carpet business was just beginning at the time, replacing more traditional 'Kidderminster Stuff' (a common name for wall hangings and bed linen) and dozens of new houses were built in the town to accommodate the weavers.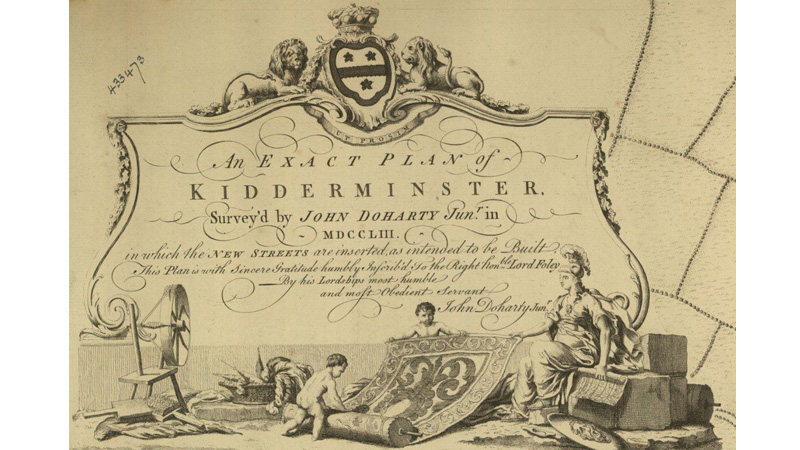 Part of a 1753 map of Kidderminster by surveyor John Doharty. It mentions the new streets which were built - this image also shows how important the carpet trade was for the town. Image Source: Revolutionary Players
Founder William Brinton Sr worked alongside other carpet entrepreneurs such as John Broom and Henry Woodward (of Woodward Grosvenor, which was finally acquired by Brintons in 2003).
In 1870s, nearly 100 years after they were first founded, the factories were extended, helped by the acquisition of a warehouse previously owned by a Joseph Bowyer, another carpet manufacturer. By this time Henry Brinton was at the helm, and set up their new head office in Exchange Street in 1876. Part of it is still standing and still functions as offices.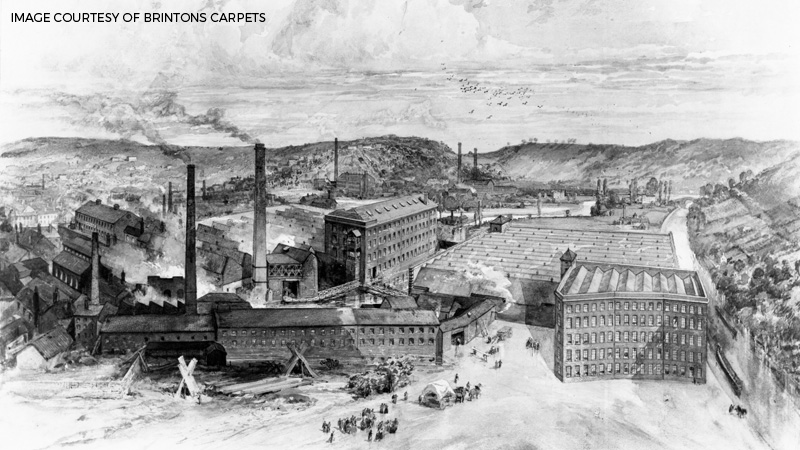 An illustration of the extended Brintons factory in Kidderminster, Circa 1870. Image Source Brintons Carpets
It carried on strong past the turn of the century, continuing to innovate (see below) and in 1958 was awarded the Royal Warrant by Queen Elizabeth II.


NB: The Royal Warrant is given to companies who supplier to members of the royal family - it is both a mark of recognition and a recommendation for potential buyers - some other holders of the Royal Warrant include Twinnings Tea and Aston Martin.


Throughout the latter half of the 20th century and the first decades of the 21st, they have continued to shine, producing great products and winning awards (such as the Manufacturing Excellence Award in 2001 and Best Flooring Brand in 2014).
Though they have come a long way, they are still true to their origins- unlike many contemporary carpet companies, Brintons still exclusively make woven carpets rather than tufted carpets (find out more about the differences here) and observe the same high standards as ever.
The Philosophy
Speaking of high standards, quality is the primary watchword at Brintons - on their website they outline the 'Brintons Promise' which guarantees customers will be happy with their product.
Their process is very involved and their supply chain is closely monitored with their 'Fleece to Floor' approach - they use only the best fleeces from the best breeds (find out more about them here) and every carpet is inspected twice before leaving the factory.
This also helps them focus on sustainability - we have spoken about this on the blog before so we won't go into too much detail, but Brintons is always working to improve its environmental performance - it is a member of Carpet Recycling UK, which helps avoid putting carpets into landfill, recycles its own yarn into an underlay product (called 'Brinfelt') and ensures that its wool - a naturally sustainable resource - is always sourced responsibly.


Brintons' own 'Fleece To Floor' video, showing how they make their world-class carpets step-by-step
Brintons have also always been at the forefront of carpet-making innovation - apart from being one of the first companies to kickstart the new carpet industry, they were constantly improving their equipment through the early years. They developed and patented a new version of the Axminster loom in 1890 with grippers replacing the traditional spool (to this day they build all their own looms), and 60 years later they pioneered the use of the now ubiquitous 80% wool 20% nylon blend for carpets.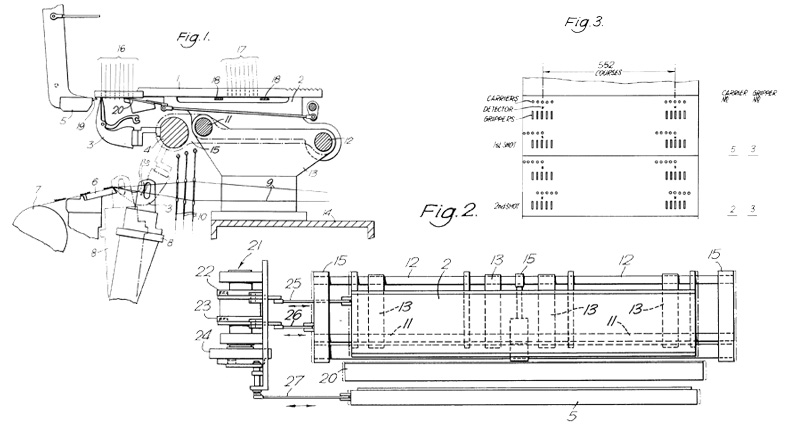 Details from the original patent filed by Brintons for Jacquard Axminster Loom - Image Source: Google Patents
Patent Image - Source:
Just this year in August they won two prizes in the Flooring Innovation Awards - for Marketing and Design - and show no signs of slowing down.
It is very rare to see a company so effectively blending the old and the new, the traditional and the innovative, but Brintons have succeeded, taking the best of both. Their commitment to quality draws on both the past and the future.
The Products
Right, now you've heard about the company, its time to look at their actual products! Here are some of our favourites and we're sure that they will become yours too...
The Bell Twist range was launched in 1965, so it is an impressive 53 years old - but it's looking better than ever! Using Brintons trademark 80% Wool 20% Nylon blend, it is soft but super hard-wearing.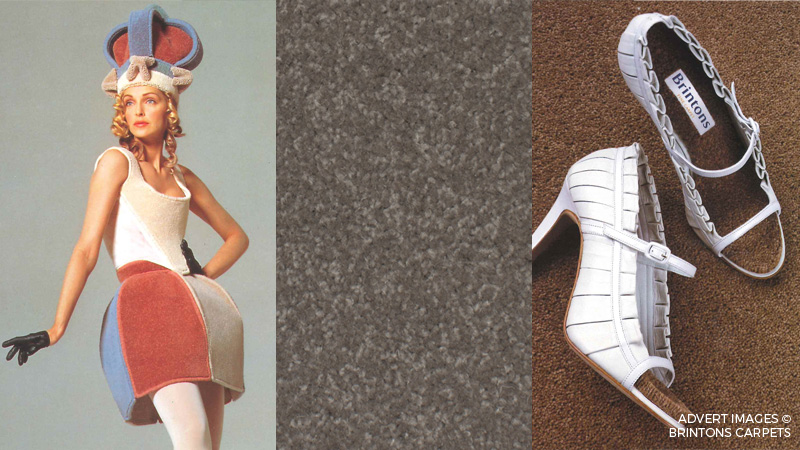 Some adverts for Bell Twist from the early years, and one of our favourite colours, Pewter - Image Source: Brintons Carpets
Plus, it comes in a palette of over sixty different colours, so there is sure to be something for everyone!
Brintons have worked with designers such as Vivienne Westwood and Anthony Price, so their work with Laura Ashley in 2010 was familar territory.
As a brand, Laura Ashley has a name every bit as prestigious as their own, and while lacking the carpet-maker's years, the company does have more of a place in the public consciousness. This made a collaboration between the two an excellent move for Brintons.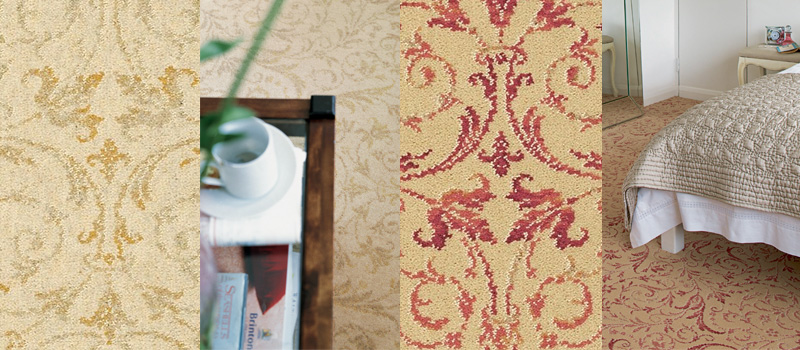 Showing off two carpets from the Laura Ashley collection - Malmaison Faded Gold and Malmaison Raspberry
This, combined with the fact that they share the same values of high quality and exquisite design, meant that the result was something both companies could be proud of.
Primarily traditional, victorian floral designs, these carpets are refined but eye-catching - just like the original fabrics from Laura Ashley herself!
Another collaboration which demonstrates Brintons' ability to judge popular trends, this collection is the result their own expert designers working with the eponymous 'Timorous Beasties', an exclusive design house based in Glasgow who primarily create wallpapers and textiles.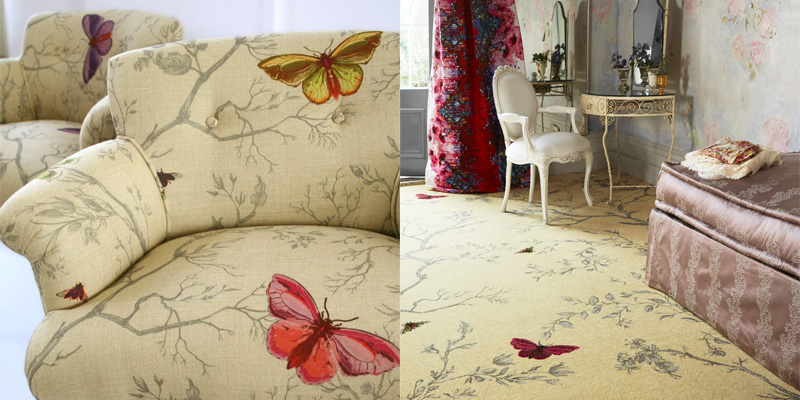 Comparing the original Ruskin Butterfly upholstery fabric from to the Brintons carpet of the same name - Images © Timorous Beasties and © Brintons
These carpets have a distinctly turn-of-the-century, Arts and Crafts feel, heavily featuring flowers, butterflies and birds - have a closer look here.
So, that's a brief intro to Brintons - but if you want to find out more about them and about carpets in general, check out the Museum of Carpet in Kidderminster - it's a fun day out for all the family - providing all your family likes carpets, of course. In the meantime, check out the full range of Brintons carpets here, and as always do feel free to get in touch if you have any more questions.
Until next time!