faq / our services / navigating 08
Can I order a carpet cut to my size requirements?
Yes!
However, there are different methods used for different product types - to find out more about the distinctions between the products, check the 'Our Products' page of the FAQ.
Carpets
Everything listed under our carpet section can be ordered a specific size.; on the carpet product page, simply type your required measurement (to the nearest 10cm or 0.1 meters) in the box marked 'length' and, if applicable, select a width from the drop-down menu (most carpet manufacturers make their carpet in standard widths, commonly 4m or 5m).


Remnants and Rolls
If you wish to request a remnant or roll cut a particular size, there are several ways to do this. The first method is to head to the remnants front page and type the length you need.
Any piece which is long enough to provide your cut whilst leaving a balance of 4 metres will be automatically calculated as a cut on the website. For example, if you want a 4 metre cut, any remnants of 4 metres or over would display as a cut.
(Anything between 4-8 metres will display too, but you would have to buy the whole piece).
Secondly, you can use the sidebar on both the remnants or rolls search grid to perform this function - just put in your requested length in the top box and click 'apply'.
You can tell if a remnant is displayed as a cut because the product ID will now be in the format s0000-0400, rather than the normal s0000 - in this case, the '0400' refers to the 4 metre length you have requested. If you wanted a 5 meter cut, it would display as s0000-0500, 10 meters as s0000-1000 and so on.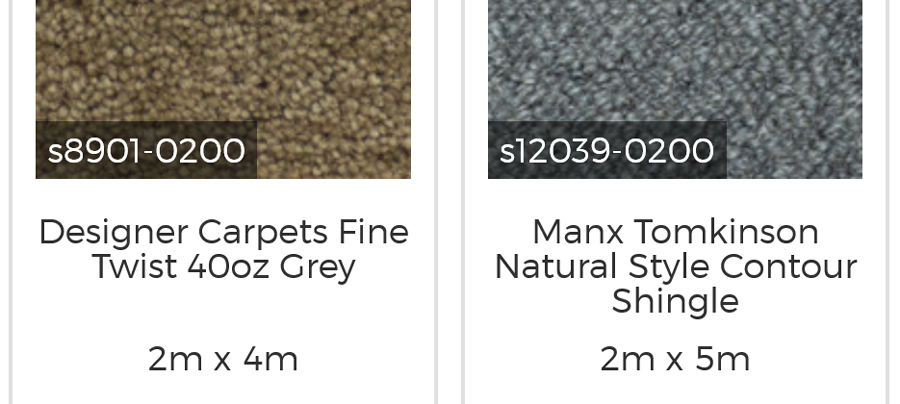 The third method is done on the product page of the roll itself. You will see under the length that a drop down menu is available where you can select/type in the size you need:


In all instances the website will automatically calculate the price for the cut you need - then you can simply add it to your basket as normal.