Installing Carpet - Where to Start
By Kaiesha Page - (28/07/2019)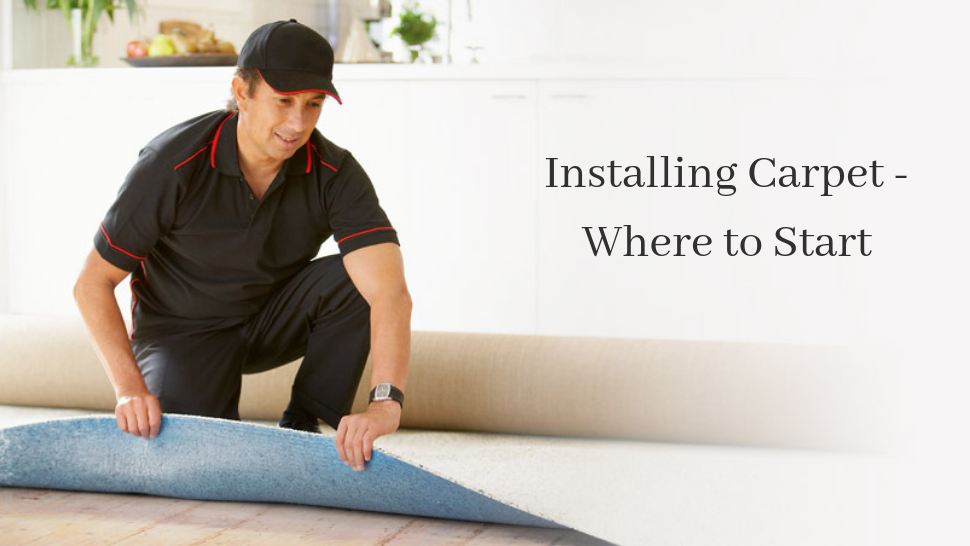 You have decided on your carpet and now you have placed your order and whilst we always advise having a professional fitter to lay it for you, we understand that some people would rather fit it themselves.
In today's blog post, we are going to offer some tips and tricks for fitting your carpet and steps that you can take to fit the carpet yourselves.
Get Your Tools
Before you even contemplate starting to fit your carpet, we suggest that you ensure you have all the essential tools.
A standard toolkit would include:
Knee pads
Tape measure
Pencil
Masking tape
Hammer or nail gun
19mm & 10mm nails
3mm hardboard sheets
Pipe and cable detector
Gloves
Hack saw
Carpet tape
Craft or Stanley knife
Carpet stretcher
Carpet tucker
Drill
Vacuum cleaner
Measure Your Room
Hopefully, you will have already done this before placing your order, but we suggest taking the time to do it once again. In order to create an accurate guideline for your carpet laying, we suggest grabbing a piece of A4 paper.
On this sheet of paper, draw a rough outline of your room, it doesn't have to be accurate and you just want to make sure that the shape is adequately represented. Then, once you've measured each part of the room, add it to the diagram. This will give you an overview of the entire room and allow for easy calculations to be made.
Don't forget to always add 10cm for any potential waste.
When it comes to measuring any stairs that you are carpeting, these can be slightly more complicated and do require a separate process. Take the time to measure the depth and height of the stair before then multiplying the width. In this case, we suggest allowing a margin of 10% for waste, as staircases are notoriously tricky.
Prepare The Floor
Before you start to lay your new carpet, there are some crucial preparations that you need to take, and this includes removing any existing carpet. Be sure to take care in this step, as you don't want to cause any unnecessary damage or to hurt yourself by being overzealous. For this process, always use your knee pads.
Fit Carpet Grips & Underlay
Carpet grips are pre-nailed rods that are laid beneath the carpet to help it to stick to the chosen area. These are very easy to use and can be measured to suit the area where they are needed. They should mainly be used around the edges of the room but not in the doorways.
However, care should be taken to lay these correctly and you should always be careful of any underlaying pipes or cables.
As we have mentioned in other blog posts, we urge you to ensure that you invest in a good underlay because it's an important part of the process. Underlay can help to smooth, protect and strengthen your carpet, helping it to last for the little bit longer. This should be fitted carefully and cut using a Stanley knife.
Fit The Carpet
To start with, lay your carpet loosely in the position where it is to be installed and use one foot to hold up one corner. You want to use the other foot to then gently smooth out the carpet. Ideally, once it has been loosely laid, you want to have around 10cm of excess at every edge.
Once this first step has been completed, you then want to vertically cut away this excess using a sharp Stanley knife.
It's then time to start laying the carpet, starting at the longest wall and working your way backwards. Take a carpet tucker and use this to create firm crease folds in the carpet board and along the skirting boards. You then want to take a knife and cut this area, around 5mm higher than the carpet surface. Make sure that you do hold the carpet while you cut this area.
Next, you want to take the carpet stretcher and place it about 25mm from the skirting board, making sure that its teeth are facing down. Using your knee, push the padded end down firmly, as this will force the carpet to hook on the gripper at each corner.
Take the carpet tucker and use that to push down any excess carpet, pressing it down between the skirting board and the gripper. This process should be repeated until the first wall is complete and should be repeated along the adjacent walls, before moving to the wall directly opposite.
Finally, a door bar should be added to any door that enters the room.
Care Immediately After
Don't be too alarmed if your carpet starts by shedding any fibre's in the first few days after being laid, as this is perfectly normal. If it does, we suggest that you vacuum it daily, as this will ensure that it is kept clean and that all loose fibres are removed. You can also expect its initial odour to fade with time.
So, that's it and congratulations if you have gone ahead and laid your own carpet. It is by no means easy.
However, if this entire process seems too hard, it's always best to get a professional fitter in to do the job for you.
Enter your required size for our most accurate pricing and availability.