Invest in Your Home - Vintage Style
By Jim (18/07/2016)
We're starting a new thread here on our blog - as the title suggests, it's all about investing in your home!
We believe that investment for the future is a great thing, and that every purchase should be treated with care (that's why we only buy high-quality carpet remnants from top brands) so we've tried to find some suggestions from around the internet to help you get the best out of your home.
This first blog is all about vintage chic which is (justifiably) popular at the moment, so let's get started...
1. Inspiration

There are many places to get inspiration for Vintage Chic around the Net, and it can lead to information overload - we've made our own Pinterest Board to help start you off, but for more in-depth articles, here's out top pick...

Magazine:
"Period Living"





A fantastic publication with a great supporting website, Period Living has loads of ideas, listings, offers and projects to get you started on your Vintage Chic journey!

See Also:
"Chasing Vintage"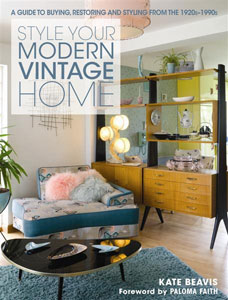 Book:
"Style Your Modern Vintage Home" by Kate Beavis

Rather than sticking to a single definition of 'vintage', this book goes through all the various styles throughout the past century, showing real-life examples is sumptuous photos - a perfect sourcebook!

See Also:
"Bazaar Style: Decorating with Market and Vintage Finds" by Selina Lake
"Vintage Industrial: Living With Design Icons" by Misha de Potestad and Patrice Pascal
"Style Me Vintage: Home: A Practical and Inspirational Guide to Retro Interior Design" by Keeley Harris

Shops:
We are a midlands-based company so we have a soft spot for local stores...here's a few ideas from near us!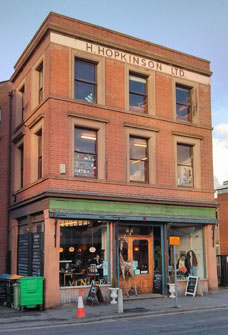 "Sheena Holland"
Derby
www.sheenaholland.com
Situated in the historic Blacksmith's Yard, this long-standing shop provides vintage style in a vintage location!

"Hopkinson Vintage, Antiques and Art Centre"
Nottingham
www.hopkinson21.co.uk
Four floors of fantastic clothes, furniture, artifacts - plus a great little cafe and art gallery - Hopkinson is an amazing place to find things for your home!

"Heanor Antiques Centre"
Heanor
www.alscar.co.uk
Described as an Aladdin's Cave of wonderful objects, any visitor to the midlands should pop in just for a look - be careful though, you may not be able to resist!


2. Colours and Materials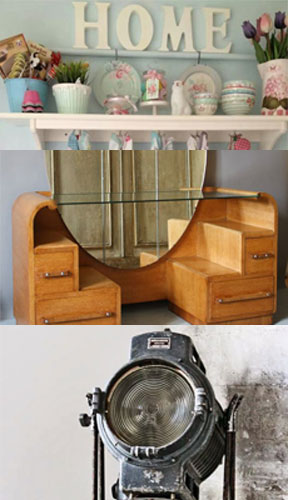 Of course, the word 'vintage' covers a lot of ground, so it will depend on what kind of style and period you are going for, but here are three popular choices to start you off...

Shabby Chic
One of the favourites, shabby chic does not draw from a specific period but makes a statement of wear-and-tear, rather than try to hide it.

Materials: Bare wood, painted metal (a little rust is preferred!), glass, chalk paint (gives a super matte finish)
Colours: Muted tones, delicate blues and pinks, grey-blues, white, floral patterns

Art Deco
This borrows directly from the popular style of the 1920s -1940 lots of colour, bold shapes, symmetry and spectacle!

Materials: Porcelain, polished wood, brass, chrome, marble, patterned carpet
Colours: Gold, silver, red, black, white

Vintage Industrial
Taking inspiration from the offices and workplaces of the 1890s-1920s, vintage industrial is about a marriage of function and form...

Materials: Varnished wood, bare metal, exposed brick
Colours: The majority of the colour is derived from the materials themselves, without the need for decoration




3. Furniture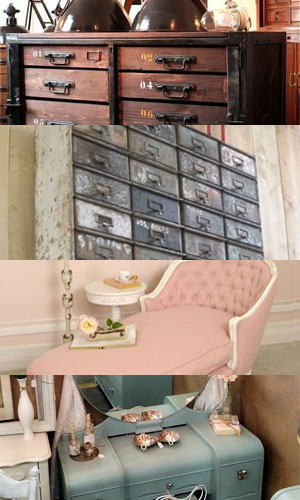 Furniture is of course a huge piece of defining your own space, and again it will depend on the style you want - but here's a few very popular vintage items you may wish to invest in!

Sideboard/Credenza/Dresser
A sideboard is in many ways a timeless item of furniture, indispensable in the modern home, but it can evoke any period and style - here's a couple that evoke the 1890s, the 1920s and the 1970s respectively.

Library Catalogue Storage
These days most library catalogues are kept in a digital format, so old file cabinets are gathering dust - thankfully they can be repurposed for a classy and unique storage solution!

Chaise Longue
The Chaise Longue is thought to originate in ancient Egypt, but the designs we're familiar with are more from the 1800s, particularly since Sigmund Freud made them an icon of psychoanalysis. Sofa, chair, lounger, bed - they are a multi-use piece of furniture, and they needn't cost the Earth - many charity furniture shops stock second hand ones!

Vanity Table
A vanity table doesn't have to be just for checking yourself out (although hopefully you will get a chance to do that!) - they can double as side-boards/storage, or even converted into sink-cupboards if you're handy - and they don't have to take up a huge amount of space, there are plenty of space-saving vanity ideas out there.




4. Decorations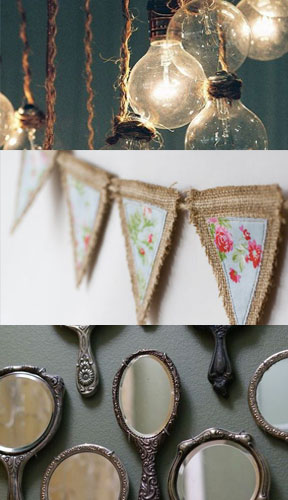 The icing on the cake! There are plenty of things you can do to spice up the vintage space- here's a list of a few popular ones, all of which we've put on our Pinterest page!

Bunting (home-made if you have the time)

Typewriters

Luggage Trunks/Steamer Trunks
(These can be converted in to lots of things!)

Lace - Tablecloths, Doilies, Throws, Curtains

Flowers - Real and plastic!

Enamel & Metal Jugs (Milk Jugs are a particular favourite, especially combined with flowers)

Natural Rugs


Bare Bulbs (for Vintage Industrial)

Hand Mirrors

Old Cameras (e.g. Box Brownies)


Old Posters and Signs



Well, we hope that gave you some inspiration- and of course we must mention that if you want a vintage look, you can't do better than woven carpet!
Most of the companies who make woven carpet like Brintons, Axminster and many others actually started in the Victorian period, so they have a genuine claim to vintage-ness, and with our impressive discounts, you can save a bit of money up for that vanity table!



Tweet